Round table "Communal waste management in Kosovo: An opportunity or a threat for economic development?" in Zvecan municipality
Release date: 23.02.2017.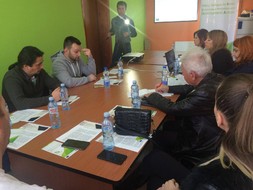 At the round table in Zvecan, InTER presented the key findings of Policy Brief "Communal waste management in Kosovo: an opportunity or a threat for economic development?". We discussed the problems identified in this area together with representatives of local self-government Zvečan, JKP "Zvečan", representatives of UNDP, non-governmental organizations active in the field of environmental protection, as well as representatives of the academic community.
The analysis is conducted within the project "POlicy Dialogue for Better Environment Protection and Development Action," funded by the European Union Office in Kosovo. Participants agreed that the poor implementation of the laws both on central and local levels, inefficient institutions, the constant increase in the quantity of waste, infrastructural problems related to waste collection, disposal and treatment, absence of will of authorities to solve the problems in this area but also the lack of sustainable financial instruments for "green projects" are some of the crucial problems. In addition, waste is seen solely as an expenditure and an environmental problem, not as a valuable resource. Some of the recommendations are that significant efforts are needed in order to raise awareness of the economic potential of waste and utilization of waste capacity for private sector development. Improving the environment with the development of the private sector in the field of communal waste can certainly contribute to better living conditions in the local community and poverty reduction.
More about the research results and recommendations for improvement of public policies in this area can be found in the enclosed documents.