Round table "Water in Kosovo" in Mitrovica North
Release date: 01.06.2017.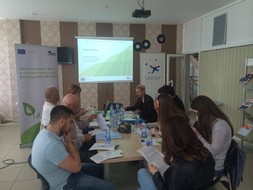 There are 368 registered polluters in Kosovo, of which 214 in the region of Ibar, Lepenica and Binacka Morava watercourses, as presented in the research of the Institute for Territorial Economic Development (InTER). There are 48 polluters registered in the region of Mitrovica. At the round table in Mitrovica North, pollution of the Ibar River is emphasized as one of the biggest problems.
"Industrial pollution is a major problem, because Trepca pollutes Ibar River significantly with their operation", says Milan Barac, a professor from the Faculty of Technical Sciences of the University of Pristina, with a temporary location in Kosovska Mitrovica.
Numerous problems have been identified in terms of protection and rational use of water resources, from irregular and inadequate distribution of water resources in relation to the demand, waste water collection and treatment, management of flood and erosion risks, and the lack and obsolescence of water infrastructure.
"Lack of adequate infrastructure significantly affects the level of pollution of water resources, and consequently health and possibilities for socio-economic development", says Marija Milenkovic from InTER, the author of the research.
InTER's recommendations are primarily related to the finalisation of construction of the regional water supply system, in order to solve the problem of drinking water supply in the municipalities of Mitrovica North, Zvecan and Zubin Potok. In order to ensure the efficiency of supply with drinking and technical water, it is also necessary to build the capacity of companies providing water supply services. Protection of watercourses from waste water and illegal landfills which are often located close to rivers is crucial for environmental protection.
The round table was organised within the project "Policy Dialogue for Environmental Protection and Development Action", implemented by InTER and financed by the European Union Office in Kosovo.