InTER started the project "The importance of dialogue for local economic development - the example of PPP"
Release date: 24.01.2023.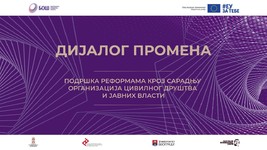 In cooperation with the Bečej Youth Association (BUM), InTER, is implementing the project "The importance of dialogue for local economic development - the example of public-private partnership (PPP)", supported by the Belgrade Open School (BOŠ), and financed by the Delegation of the European Union to Serbia. The project was approved as part of the "Dialogue of Changes: Support for Reforms through Cooperation between Civil Society Organizations and Public Authorities" program.
The project will be implemented from 1 October 2022 until 31 July 2023, with the aim of contributing to the development of local communities through the improvement of dialogue with public authorities at the local level. Specifically, the project aims to improve the capacity of civil society organizations (CSOs) at the local level to actively engage in dialogue with public authorities.
The project targets 6 municipalities (near Belgrade) in Serbia, where each municipality is involved in project activities with the neighboring municipality: Bajina Bašta and Ljubovija, Bečej and Opovo, Topola and Lazarevac. Through the project, the establishment of a total of 3 Dialogue Forums is planned, which will consist of all relevant actors (representatives of civil society and public authorities) from neighboring municipalities. These informal bodies (Forums) will continue to function even after the end of the project. In addition, through organized workshops and a Capacity Building school, efforts will be made to build the capacity of CSOs and public authorities for joint dialogue, which is necessary for local economic development, as well as the development of PPP projects.
It is planned to jointly define potential public-private partnership project proposals for their local communities at the Forum meetings (a total of 6 PPP proposals are planned; one for each targeted municipality).