Round table "Forests in Kosovo – a Disappearing Resource" in Leposavic
Release date: 14.12.2016.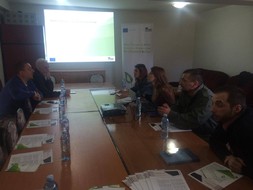 Are forests in Kosovo a disappearing resource? This and other issues in the forestry sector were discussed today in a round table in Leposavic with the representatives of the public company "Srbijašume", council members of municipality of Leposavic, representatives of UNDP and other NGOs active in the field of environmental protection.
InTER presented the key findings of the analysis "Forests in Kosovo – a Disappearing Resource", developed within the project "Policy Dialogue for Environmental Protection and Development Action" with financial support from the EU Office in Kosovo. All participants agreed that poor law enforcement, the lack of efficient cooperation with other institutions, such as courts and police, insufficient financial assistance, poor awareness of the need to protect forests, are some of the key problems in forestry. With adequate management, forests are also a huge potential for economic development. However, there is more and more illegal deforestation and it further threatens environmental degradation. It has been concluded that protection and efficient forest exploitation are the key priorities both in economic strengthening of Kosovo, as well as improvement of the environment.
More information about the results of the research and recommendations for policy improvement in this sector can be found in the link below.