Policy brief: Implementation of the new paradigm for sustainable development of the flooded areas in the search for a final solution for the status of the hydrosystem "Ibar-Lepenac"
Date start: 29.05.2015.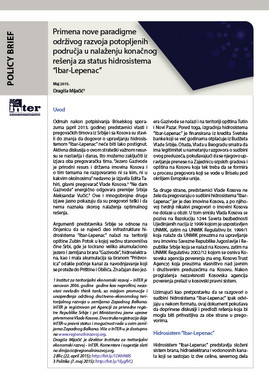 In the last months, Gazivode Reservoir, i.e. the hydrosystem "Ibar-Lepenac" has been in the public focus because of the dispute between Serbian and Kosovo's governments about the ownership and rights for the management of this resource. Due to the importance of this issue, Institute for Territorial Economic Development (InTER) has developed a document with proposed solution for this sensitive issue that is delivered to the negotiating sides within the Brussels process. As a part of solution, InTER proposes implementation of a new paradigm of the World Bank for sustainable development of territories that suffered losses due to the construction of the hydrosystem, which includes sharing of benefits generated from the use of this resource between different government levels. In accordance with this principle, the document proposes sharing of revenues from the use of the hydrosystem "Ibar-Lepenac" between the central level of government in Kosovo and local self-governments that suffered losses from the construction of the hydrosystem – primarily the municipalities of Zubin Potok, Tutin and Novi Pazar, as well as other municipalities in Kosovo which are transits for the system of irrigation channels. A part of revenues would be paid to the budget of the Association/Community of Serb-majority Municipalities in Kosovo in order to ensure sustainability of that institution. The document also provides a solution for preservation of energy stability for the municipalities in the north of Kosovo, as well as privatization or recapitalization of the hydrosystem "Ibar-Lepenac" in order to increase the efficiency of that company. In accordance with the proposals from this documen, Gazivode Reservoir should also be treated as an economic, tourism and agricultural resource of special importance for the development of municipalities where it is located. In the following days, InTER will organize a series of meetings and round tables in Belgrade, Pristina and in the north of Kosovo in order to explain the solutions proposed in the document more closely.