Characteristics of Roma Entrepreneurship in Serbia
Date start: 20.02.2017.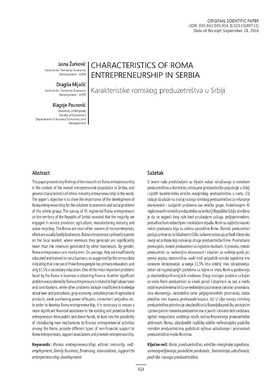 Characteristics of Roma Entrepreneurship in Serbia is an academic paper based on the results of the research with the same name, implemented in 2016. The paper's objective is to show the importance of the development of Roma entrepreneurship for the solutions to economic and social problems of this ethnic group. The survey of 45 registered Roma entrepreneurs on the territory of the Republic of Serbia revealed that the majority are engaged in service provision, agriculture, manufacturing industry and waste recycling. The Roma are most often owners of microenterprises, which are usually family businesses. Roma entrepreneurs primarily operate on the local market, where revenues they generate are significantly lower than the revenues generated by other businesses. By gender, Roma entrepreneurs are mostly men. On average, they are insufficiently educated and trained to run a business, as suggested by the census data indicating that one out of three Roma people has primary education, and only 11.5% a secondary education. One of the most important problems faced by the Roma in business is obtaining finance. Another significant problem encountered by Roma entrepreneurs is related to high labour taxes and contributions, while other problems include insufficient knowledge about laws and procedures, grey economy, unstable prices of agricultural products, weak purchasing power of buyers, consumers' prejudice, etc. In order to develop Roma entrepreneurship, it is necessary to ensure a more significant financial assistance to the existing and potential Roma entrepreneurs from public and donor funds, to look into the possibility of introducing new mechanisms to finance entrepreneurial activities among the Roma, provide different types of non-financial support to Roma entrepreneurs, support associations and promote entrepreneurship. The paper was published in the journal "Ekonomika preduzeća", No. 7-8/2016 pp. 414-424.